Payres: deadline buffer for CHAPS ISO 20022 migration
With smart solutions in place, you can reroute your timeline for the ISO 20022 new messaging standard by June 2022. What's more, your CHAPS ISO 20022 transition project can be leveraged to win market advantage.
Clearing House Automated Payment System (CHAPS) is the fastest payment model in the UK and one of the first European instant payment systems. In the coming months, the system will face a revolution: switching to ISO 20022, the new global standard for payment messages.
The decision to join this global messaging standard was made back in June 2018 by the Bank of England, Pay.UK and Payment Systems Regulator. In late 2020, the formal preparations were completed, and financial institutions operating in the UK officially launched their ISO20022 implementation programs.
However, this is a complex project, executed under pressure with limited time. The scope of the implementation is huge and requires in-depth testing. However, in the future financial institutions that implement ISO 20022 in CHAPS will be able to obtain more detailed and better-structured reference information. Additionally, the new messaging standard will reduce manual interventions, which means potentially fewer delays for the customer.
The ISO 20022 clock is ticking
To meet the implementation challenges on time, financial organisations will need to introduce massive changes in all bank architecture systems, processes, and technologies. The sheer scale of the work required for ISO 20022 takes an average of two years to implement. In addition, it is a very sensitive area of the bank's operations. A single failed transaction worth several million pounds, for example, a major order from a business partner, or a real estate transaction, can have serious business consequences. Those banks that start transforming their infrastructure last will have to face an enormous challenge, when the schedule is tight. However, this is only the first step. If banks are late in this respect, the delay will also affect the next steps.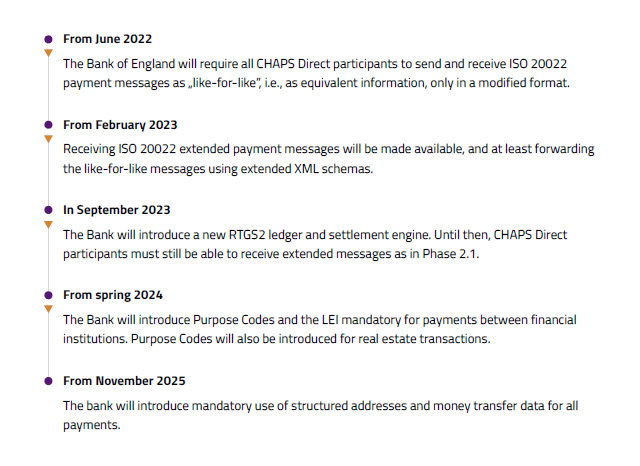 A buffer that acts like a time shield
Since the Bank of England will enforce messages in the new format in June 2022, systems that haven't been migrated will not be able to receive the new CHAPS messages. Is it possible to secure failure-free information exchange if the systems in your bank are not ready yet? In the event of a project delay, is it possible to provide access to both message formats?
Until all systems in your bank are tested and ready to receive messages in the new format, an independent temporal buffer, Payres, can help. Installing this system at the interface between incoming messages and banking applications allows "translating" incoming messages in real-time, both ways.
Payres transforms incoming messages from the new format to the old one, so that systems that are not ready by June 2022 can easily receive messages in the new format. Next, Payres transforms back the information generated by non-updated systems in the old format to the new one, and sends it back, ensuring continuity of data exchange.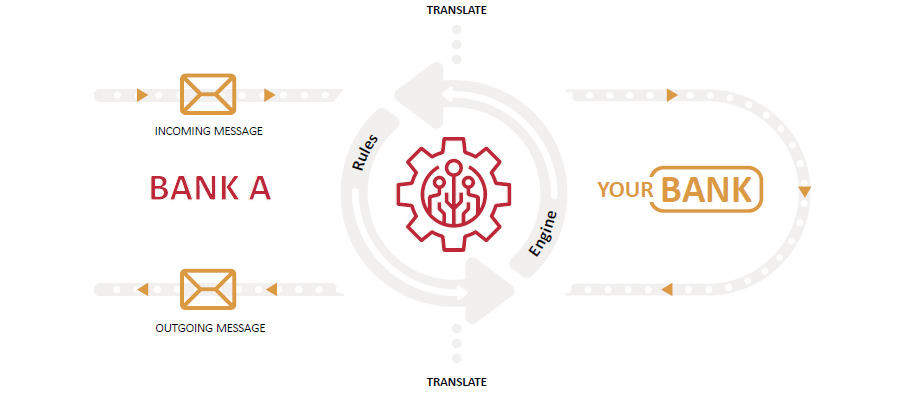 Our solution can be adapted to the ISO readiness level of specific applications in the banking ecosystem. In this way, those institutions that do not manage to complete the implementation of ISO 20022-compliant solutions will not only be able to use the new format, but also leverage the new communication standard to their advantage as additional information becomes available. Payres can be a kind of "time stretcher" for banks to work on adapting their systems even if the work schedule goes beyond June 2022.
Payres supports and boosts your ISO 20022 migration
Buying time for the analytical and development phases is one thing, but what about the testing phase? With ISO 20022 implementation in CHAPS, the amount and quality of tests to be performed is greater than in any regulatory projects in the last 10 years, including SEPA. It would take a long time to create such test cases manually, but with Payres the process can be significantly accelerated and streamlined. During the translation from the old to the new format, Payres collects messages that can be reused in automatic ISO 20022 readiness tests of individual applications, after anonymization.
Payres also supports the various stages of implementation of the new message format in individual business applications. Each format of the messages, new or old, can be redirected between systems using business rules in Payres. This is how you can decide which system receives which format.
In the next phase of ISO 20022 implementation, when messages will be enhanced with additional information, Payres will be able to use the new content to create added value. With properly designed business rules, Payres can capture additional information contained in messages and launch the desired actions in external systems. This way, the bank may activate additional processes, doing one more step on their data-driven concept implementation path, even before the competition!
Support your corporate clients and create added value
The implementation of the new CHAPS Direct standard applies not only to banks but also to their corporate clients. The largest manufacturers or service providers automatically process and book tens of thousands (or more) of large-format transactions per month. Of course, corporate accounting and billing solutions need to adapt to the new exchange format.
As an experienced partner advisor, your bank can offer additional migration time to your corporate clients. If a number of them require additional support in translating messages into the new format between their ledger systems and your bank's core system, this can also be handled with Payres. If single cases require support in this respect, your bank can create a consulting service with added value. Referencing them to companies that handle the mitigation of adverse consequences of implementation delays, that can minimize the impact of changes related to the implementation of ISO 20022.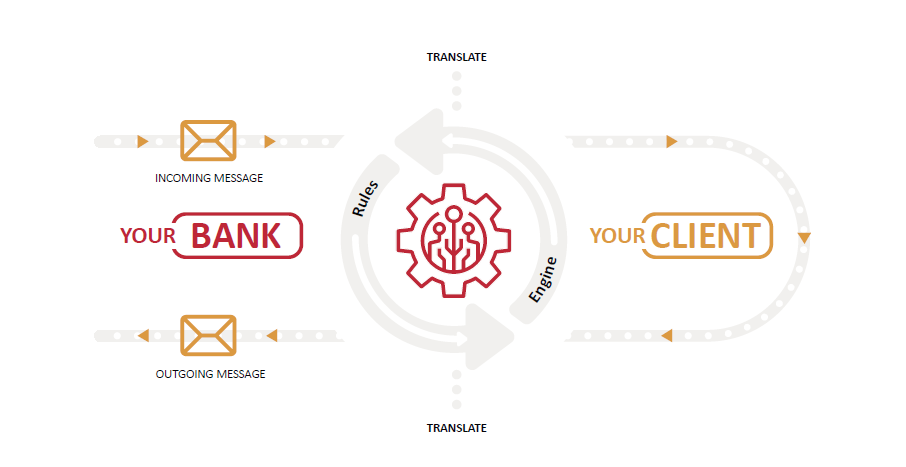 Payres safeguards your transition to ISO 20022
As Payres accompanies the process of implementing the next stages of ISO, it can be used as a shield to support and leverage new data in real-time, while gaining time to complete the implementation and testing in the banking architecture. Payres shields you against the deadline, and at the same time allows you to use the new information immediately when and where the bank is ready for it, in the form in which it can be used.
What's more, Payres is a future-proof solution that secures not only the first but also the subsequent stages of ISO 20022 implementation, when the use of additional information comes into play. Just add new business rules that will activate new data exchange processes. Systems, messages, and even individual information in the message can be modeled with business rules. Payres can handle any business scenario. It also works well in medium and smaller banks, because it does not require complicated, long-term, and costly implementation.
The implementation of ISO20020 is a complex project, executed under time pressure. If you need qualified human resources or would like to take advantage of our consulting support, please do not hesitate to contact me.
Author:
Jacek Nowak, CEO at CCA Europe
For over 16 years, CCA Europe has been providing specialized software for the financial sector in Poland and globally. As a team of over 30 experienced specialists, they have carried out comprehensive core banking system development projects, payments, card transactions, internet, and mobile applications, as well as automation and tests. The company specializes in card and payment systems. The company has successfully collaborated with major banks, including Credit Agricole, ING, or Vietin Bank in several countries.
https://ccaeurope.pl/wp-content/uploads/2021/08/chaps1.png
626
626
Jacek Nowak, CEO
https://ccaeurope.pl/wp-content/uploads/2019/12/logo_n-180x180.png
Jacek Nowak, CEO
2021-08-10 10:56:00
2023-08-28 10:40:30
Payres: deadline buffer for CHAPS ISO 20022 migration